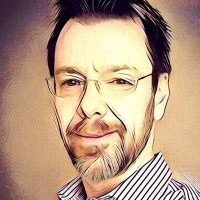 Hi! I am Jay Forde, CEO of JF Designs. We have been providing creative and technology solutions for our clients since 1991. For over 25 years we have seen trends and styles come and go. And that keeps things new and exciting for us too. Sadly, we have also seen customer service come and go as well.
Customer service is not a cliche with us. It is at the heart of our work method. We can't read minds… yet. Although most of our clients think that we can. We simply listen to our clients, and then we try to exceed their expectations.
Should we be so lucky to have you as a new client, we can assure you, that you will feel just as lucky to be working with us.
For over 25 years… that's like a hundred years in technology terms… we have been helping our clients with their design and technology needs. This is what we do, and yeah, we're really good at it. Your time is valuable, and frankly, so is ours. We strive to far exceed client expectations.  We partner with clients that are serious about their success. On every project, we provide consulting services, or creative energy, as we like to call it. We have great ideas, but, we always allow our amazing clients to be of the creative process. Magic is inevitable.
Customer service is dead… long live customer service!  It's not right until it is. We listen. It's that simple. We bring a broad range of design experience, technical knowledge, and a common sense approach to the table — and in a language, you can actually understand. Telephone, text, or email… when you contact us, we respond.
Your business needs to be #1 with your customers. We create comprehensive packages for you that encompass your print and online branding and business presentation. In simple terms, you do what you do well, and we will make sure that your customers know about it.
Logos, collateral packages, websites, Facebook business pages, photography, social media images and more.
If you need a creative way to engage your audience we have some great ideas to offer you.
In today's competitive business market image is key. But even the smallest home-based business can compete with a strong professional image. JF Designs can develop a unique and creative design package that can help put you ahead of your competition.
Our design services include brochures, direct mail campaigns, book jacket design, trade show backlit signs, banner design, CD and DVD package design, brand identity, collateral design packages and more.
Whether you need a web site built from the ground up, or just a "fresh new look", JF Designs can make a creative difference that will get noticed. Working closely with you, we not only make your site look good, but make it effective and functional for your customers, partners, and employees.
We offer content management updates to your site as well. WordPress is our preferred content management system and the one we recommend to our clients. We provide WordPress template modifications, setup, installation and content migration.
We bring over 25 years of broad range experience, technical knowledge, and a common sense approach to the table — and in a language, you can actually understand.
Sometimes it seems like customer service is a thing of the past… except when you work with JF Designs consulting. Your satisfaction is not just one priority with us… it is our ONLY priority. We can assist with professional advice on the following information:
Marketing and promotion strategy
Internet hosting
Web site architecture
Design standards
We don't try to impress our clients with all the latest industry jargon, we prefer to impress them with the results they need instead.